Axcis Education is delighted to announce their extended partnership with nasen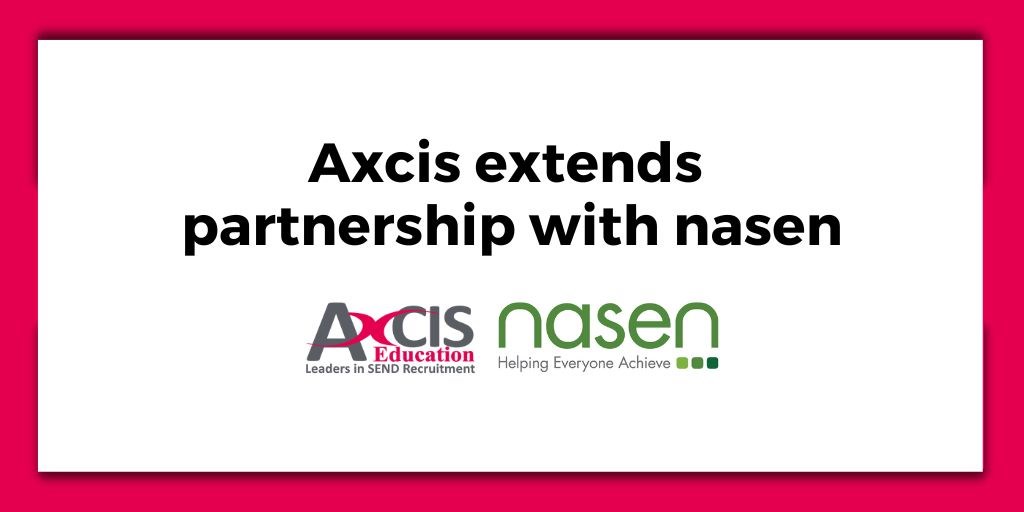 Axcis Education is delighted to announce their extended partnership with nasen, the National Association for Special Educational Needs. The extended three-year partnership which will run until 2027, will see Axcis continue their headline sponsorship of nasen.
As leaders in special educational needs and disabilities (SEND) recruitment, we feel that it's important to demonstrate our commitment to the sector. That's why we have long-standing relationships with nasen and have supported many other charitable organisations and events over the years. We do this because we know how vital the work these organisations do is for young people as well as their families and the wider community – and they can't do this without financial help. That's where we (and of course their other supporters) come in.
nasen is a charitable organisation that exists to support and champion those working with, and for, children and young people with SEND and learning differences. It seeks to ensure that all education practitioners across early years, schools, post-16, and wider settings are equipped to understand, identify, and support those with SEND and learning differences.
The charity is currently reaching 77% of schools in England and has over 100,000 members from SENCOs, senior leaders, teachers and TAs to local authorities, Trustees, Governors and those with a professional interest in SEND.
To find out more about the work nasen do, please click on the logo below.

Speaking about the partnership, Annamarie Hassall MBE, Chief Executive of nasen said:
"Over the last 32 years, nasen have been committed to providing the most effective and relevant support for all those working with children and young people with SEND.
We are delighted to continue this partnership with Axcis and know that with our mutual interest in the workforce for schools and settings, this is a beneficial relationship for nasen, for the sector and most of all, for children and young people. With their continued support through sponsorship, we can continue to provide up to the minute resources for education professionals working within the SEND sector".
Paul Gold, CEO of Axcis Education said:
"We are thrilled to confirm the extension of our partnership with nasen, until 2027 and continue to support the fantastic work they are doing within SEND across the entire education spectrum".
To find out about our other charitable partnerships, please visit our Charitable Partnerships section on our website.