Being ready for any class (Guest Post by Lynn McCann)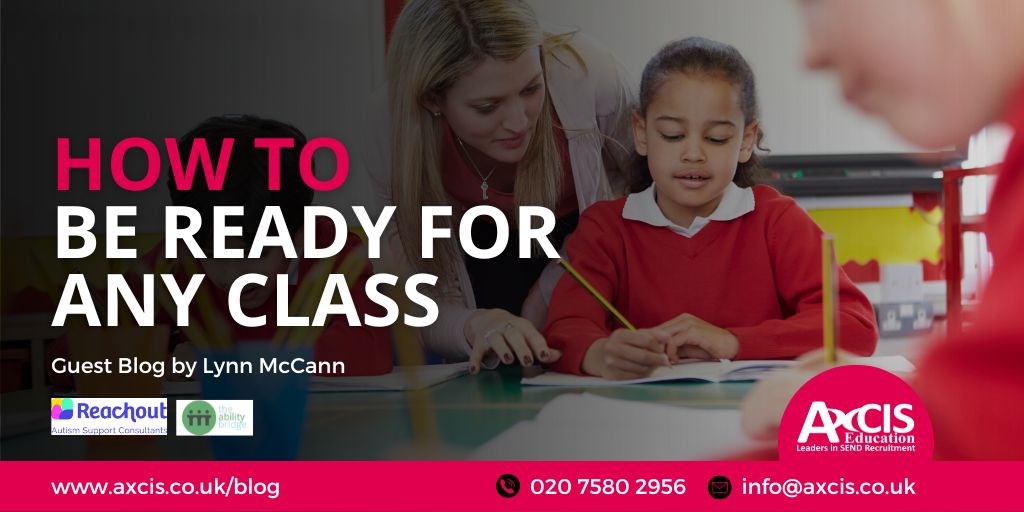 As SEND teaching staff you may get to visit a lot of classes in lots of different schools and work with a lot of different teachers and teaching assistants.  You may get to observe a lot of lessons and get to know a lot of children who might be struggling in school, usually because they have needs associated with being autistic, having ADHD or similar conditions.  But you will also meet children who have a wide variety of other conditions, all who with the right support, can often do well in both primary and secondary stages. 
As specialist teachers we work with a lot of schools.  One thing teachers often ask us is "how do I meet so many different needs in one class?" If you are a temporary teacher or teaching assistant, working for Axcis, then you might be asking the same question, with the addition of "when I don't even know what those needs are!"
Great, adaptable, and curious teachers often have really thought about inclusion of all children in their classes, and they adapt their teaching, build relationships based on encouragement and have good classroom management.  Within that, they approach children who are 'acting out' or struggling with curiosity and ask themselves, "what are the barriers to that child at this time?"  When they are well trained in SEND, teaching staff also have a positive impact on teaching and learning of the whole class.
We know that temporary staff often miss out on CPD and yet they need to be multi-skilled and be ready for anything.  So, if it is understanding how to get the best learning from autistic or ADHD children, get tips for behaviour, support playtimes or reluctant writers, anxious pupils or autistic girls, there is a huge amount of free CPD accredited training you can access through our partnership with Axcis.   If you are working in special schools, they are particularly applicable as the needs covered in the courses are extensive.  We want you to be knowledgeable, skilled, and full of confidence in knowing how to understand SEND children and be a real asset to the school who has taken you on.
When I was a supply teacher, I had my own little bag of classroom management tricks.  I had a visual timetable with every symbol I could think of, and I had a set of visual rules for each table that I put on there before the children came into class.  I leaned heavily on the class TA to explain the needs of the children but worked quickly to find out the ways that child liked to learn.  I found that many autism and dyslexia friendly strategies suited most of the classes I taught.  I started at a special school for autistic children as a supply teacher, and I loved it so much I didn't leave for 8 years!
So why not try out our first level courses covering either - Supporting autistic children in Early Years, Primary or Secondary School to start with.

Then you can choose to build up your expertise through the courses covering PDA, anxiety, autistic girls, using visuals for learning, ADHD, writing, behaviour, SRE.  We have workshops with guest experts on transitions, Social Stories, sensory integration and employment skills.
This partnership is bringing you, the chance to skill up and bring something positive and beneficial to your work. The children will benefit and so will your career as your confidence grows. 
About Lynn McCann
Lynn McCann began working as a mainstream class teacher and was an early years lecturer and SENCO.  More recently she has developed over 10 years' experience in autism education, outreach and training in specialist education settings.  She has training and experience in autism theory and research, PECS, Sensory Integration, SCERTS, TEACCH, ASC and Puberty, Social Stories and Forest Schools.
Lynn set up Reachout ASC in January 2014. The team has grown over the years and with a commitment to making sure that autistic people were part of the team and part of their driving force, they now have a team of four specialist teachers, three office staff and an OT/sensory therapist who works with them.
What other training do Axcis offer?
Offering our candidates access to CPD courses is very important to us here at Axcis. As such, we continue to expand and adapt our training offerings. Please keep an eye on our website and social media for more information, as well as our events diary for upcoming courses and events.
*Please note that courses and resources may be subject to change at any time as the providers add or remove content from their offerings.